The Second Reading – The End of the Earth
The journey continues.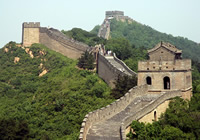 You are invited to the second reading of Double Happiness, this coming Wednesday evening, January 22. I'll be conducting a webcast and reading from Chapter 13, "A Child's Drawing of the End of the Earth," which takes place at The Great Wall. I'll also lead a short discussion.
Please join us, connect with friends old and new! The whole experience will be 15-20 minutes, starting at 6:30pm Pacific Time, 9:30pm Eastern Time.
Questions to consider and possibly share:
Do I receive a salary as a teacher at Peizheng Middle School? If so, what is it?
The chapters are alternating between Guangzhou and Beijing. Why might I have done that, and what does the alternating chapter structure do for the story?
If you don't have your copy of the book yet: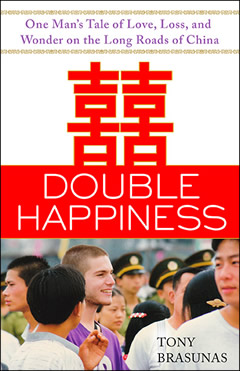 >> Get Double Happiness >>
Other News: The Blog Tour
Before I head off on my Book Tour, for these last two weeks of January, I'm on a Blog Tour, featuring many fine book sites. Find out where Double Happiness will be appearing: ClosedTheCover / Facebook.
The Hardcover
The beautiful hardcover, after all the production complications, is now done! When you hold one in your hands, I think you'll find it was well worth the wait. As part of the Blog Tour, you can enter today to win a signed hardcover: ClosedTheCover. And if you were a Kickstarter Backer and selected a hardcover book as part of your reward, you will be getting yours first, in early February.
Future Readings
Over the next two months, we will move through the book like a backpacker on a beautiful mountain trail, and I will read chapters, answer questions, lead discussions, and do a photo slideshow.
Date
Section
Questions
Wed. Jan 22
6:30p
Ch. 13
pp 80-82
Do I receive a salary as a teacher at Peizheng Middle School?

How does the alternating chapter structure tell part of the story?

Thu. Jan 30
6:30p
(Chinese New Year!)
Ch. 18
pp 129-132
What is the most difficult thing you've ever tried to teach someone?

What's the most difficult thing you've ever tried to learn?

Wed. Feb 12
6:30p
(With a live interview!)
Ch. 26
pp 194-196
Have you seen any typos in the book?

Why do you think the book is entitled Double Happiness?

Thu. Feb 27
6:30p
(Live from China!)
Ch. 32
pp 263-266
What was (or is) the most important crossroads of your early twenties?
Wed. Mar 12
6:30p
(Finish together!)
Ch. 37
pp 323-325
[Open Discussion]
Read Double Happiness Faster & Write a Review
Alternatively, if you're moving through the book at your own beautiful hiker's pace, enjoy! When you're done, or as soon as you feel you've read far enough to write something helpful for others, please post a review on Amazon. Reviews are helpful for reaching more people because amazon shows books with more reviews higher in search results. Thank you!
Double Happiness Reading #2 – The End of the Earth
January 22, 2014
6:30pm PST / 9:30pm EST
Option 1: Join the reading via the internet:
global.gotomeeting.com/meeting/join/768039469
If you didn't before, you'll download a small, handy app to your computer. Use your microphone and speakers – a headset is recommended.

Option 2: Call in using your telephone.
United States : +1 (213) 289-0016
Access Code: 768-039-469
Audio PIN: Shown after joining the meeting
Meeting ID: 768-039-469
Trust yourself, have fun, take chances,
Tony
Share:
Posted in
Uncategorized
by Tony Brasunas on January 19, 2014