You haven't heard from me in nearly two months, but it's not on account of censorship or deplatforming. The truth is, I've been hard at work narrating the audiobook of Red White & Blind.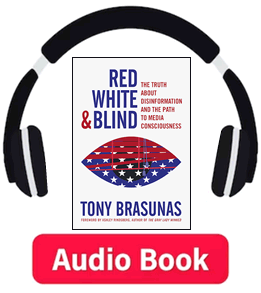 To give it that personal touch, I'm narrating the RW&B audiobook myself.
I'm delighted with how well it's coming together, but wow, it's been quite an undertaking. Rather than hire a professional narrator, I opted to read the book myself, as I did with Double Happiness. I clearly forgot the enormous effort required to narrate an audiobook. The undertaking for an author is not simply reading his or her book; it's sitting for hours at a time, reading sentence after sentence with meticulous precision and crystalline pronunciation. No stumbling, pausing, rushing, or throat-clearing allowed. It's an athletic endeavor more than an intellectual or logical one.
All for you, dear readers. I'm thinking particularly of those of you who specifically requested the audiobook. This will be the narrated experience you're looking for.
While it has been laborious, it's also been a profound joy to revisit the work I did to pull Red White & Blind together.
In the end, I know this audiobook will be better, more interesting, and more compelling in my own voice. Sit back and let me tell you a story—or twenty—that illustrate deliberate media deception and that describe the brave new path we humans are on to a world with the freest sharing of knowledge in history, a veritable new Enlightenment.
That's the news. I just wanted to let you know what I've been up to.
Preorder links for the audiobook will be posted here once I have them.
For now, the paperback and ebook, as always, are available.
You can even get a free, 20-page excerpt here.
This article also appeared at: