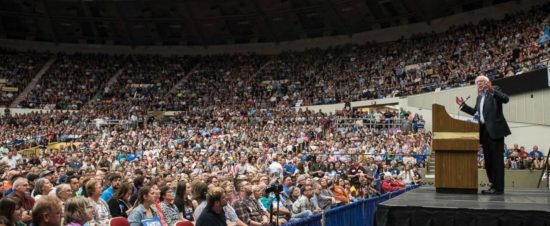 The most popular politician in the country is up against all three facets of the American political power structure, and he has already defeated two.
After weeks of inspiration and joy, there was anger and sadness this past week in the Bernie Sanders movement. After historic rallies throughout the state, Hillary Clinton's apparent victory in New York left millions in the movement wondering whether it was the corporate media or the Democratic National Committee that was screwing them over. There's plenty of blame to go around, but it's a third culprit who deserves their scorn.
Yes, the DNC has actively worked to rig this primary for Hillary Clinton, by minimizing and delaying the debates, by counting superdelegates as if they vote before July's convention, and by surreptitiously funneling money to her campaign that was solicited for down-ticket candidates.
Yes, there have also been countless instances of blatant propaganda in the corporate media, most galling perhaps the ones appearing daily in the New York Times and NPR — the so-called "N-axis" — where many thoughtful urban Democrats get their news. So tendentious has Paul Krugman become, for instance, one can only assume he's angling for a position in a Hillary Clinton cabinet
But the Bernie movement has it's own sources of news, thanks to the Internet you're using right now, and the campaign has its own sources of funds, too, thanks to the number 27.
The Elephant in the Room
The obstacle that the movement has to confront right now is something else: the voting system itself. (more…)