Where Does My New Book Rank on Amazon?
Yes, I just launched my first book, Double Happiness! It has been a thrilling week, something I've been working towards for over a decade.
Hoping to launch the book as high up the charts at amazon as possible, I concentrated all my outreach around a single day, December 12th.
I know that many of you responded to the call, became "First Readers," and bought the book on the 12th. Many also purchased yesterday, the 13th. I can see that from the chart amazon provides to me. But beyond that, unfortunately, the chart is not very forthcoming. It's quite secretive in fact. They don't provide real-time reporting on who bought a book, when, or how many copies; the chart indicates that reporting will show up "within 2-3 days of the item's manufacture." So there's the rub: After the sale, there is a 'manufacture' date and time, and that it is two or three days after that date and time that the sale will show up in my chart.
Another Approach
The other approach I tried was looking from the outside at various public amazon pages. I had specifically stated that my goal was the "Best Seller" and "New Releases" pages. As for whether we made it there, it would appear, well, not yet. I still haven't seen the book show up on New Releases or Best Sellers. There is a number on the book page — the book's "ranking" among "all books" — and that number stayed in the 200,000s all day yesterday, but then hit 150,000 last night. It seems hard to believe that there were 200,000 titles that sold more copies on 12/12 than Double Happiness, but who knows, it is the holidays. Or maybe those copies are still being "manufactured," and the numbers don't register until "two or three days after manufacture."
It was a different story when I clicked into categories more specific than "Best Sellers" or "New Releases." If I searched for any book about Guangzhou, Double Happiness came up at #25. That was something. I searched for "Travel" in New Releases, and there it was, at #46. And in New Releases, Travel books about "China," Double Happiness is at #2!
What's Happening Here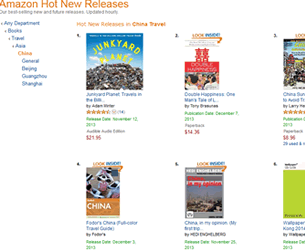 I think what is happening is that the numbers for Double Happiness are trickling into Amazon's algorithms slowly, and at different rates for different search terms. In other words, it's still early in the game.
I still believe it was the right strategy to target a single day for the most sales, but sales coming in today and tomorrow are still very helpful, as they will aggregate together as the numbers trickle in. I suppose this all makes sense from a particular perspective; it would be an obvious goal for a book sales ranking system to weigh a day's sales with a week's and a month's. I just amazon provided more real-time information to authors and publishers.
Look Inside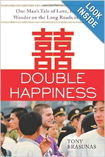 I also noticed that just this morning they gave Double Happiness the "Look Inside" treatment, which is really nice and might imply they think it's worth more attention.
Feel free to take a peak. You can peak into the book at the Table of Contents and the first chapter and use the "surprise me" feature to read other parts of the book. And if you didn't buy the book on Launch Day and might enjoy a "journey across China and through the soul of a young American," buying it today will clearly still help bump up its "peak" ranking!
Thank you for your attention and interest. What are your thoughts or questions about amazon's rankings and Best Sellers pages?
Share:
Posted in
Uncategorized
by Tony Brasunas on December 14, 2013