We Kicked That!
Yes, thanks to all of you, we kicked the Kickstarter. We are making this book!
We raised $11,808, far surpassing my goal during the official Kickstarter term, and then eight last minute pledges came in, and the Double Happiness Kickstarter finished with an amazing 183 backers and $12,048.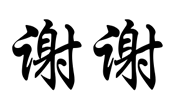 I will publish Double Happiness and share the story with the world. I'm overwhelmed and inspired. Words fail me.
Thank you!
I'm now moving into the exciting (and completely different) phase of making the physical and electronic book. I'm assembling a Double Happy team of a cover designer, interior designer, illustrator, and proofreader.
I am also attempting to somehow express the depths of my gratitude to all of you. I'm planning and creating all of your rewards. Most rewards, of course, won't ship until September, when the book is complete, but a select few will ship in the next few weeks. For now, all of you Backers at the TEACHER level or higher: You will be receiving a survey from me so I can gather the information I need to complete your rewards. Please complete your short survey when you get it, so I can move forward on schedule. Thank you!
That's it for now.
Towards double happiness,
Tony
Share:
Posted in
Uncategorized
by Tony Brasunas on July 14, 2013