This Saturday, at the prestigious Book Passage
As I write this, the "Storm of the Decade" is apparently brewing directly over Marin County, California. Assuming the city of Corte Madera survives, I'll be appearing at the wonderful Book Passage bookstore and cafe this Saturday afternoon at 4pm.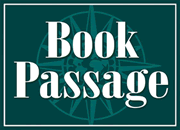 I would be delighted to see you there, to share storm survival stories, and to read a story to you about a wild journey through China.
Food and drink available for purchase in the cafe.
Saturday, December 13 (MARIN)
4pm : Reading & Signing
Book Passage
51 Tamal Vista Blvd, Corte Madera
Full Event Info >