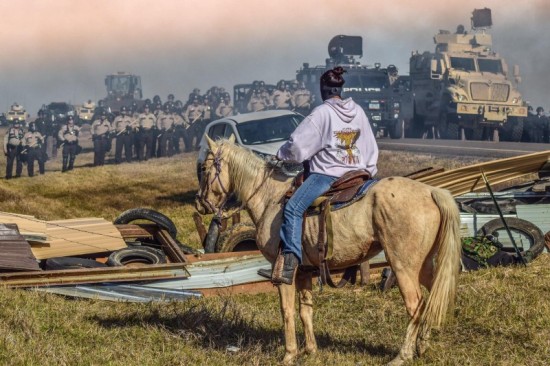 The historic gathering of over two hundred Native American tribes and thousands of their allies at Standing Rock in North Dakota has put on stark display the state of this country's corporate media and its nominally left-leaning party.
This is a massive movement that brings together virtually all the biggest issues of our day — from environmental justice and racial justice to climate change and corporate control of natural resources. Its treatment by the media and by our political parties is as instructive as any recent political event.
To begin, the media coverage of Standing Rock provides a nearly perfect picture of the current state of today's media world, which is comprised of the "corporate media" and the "independent media." There are those who trust "corporate media" more, and there are those who trust "independent media" more, but the balance has steadily been shifting in favor of "independent media" over the last 20 years. The term "corporate media," refers to the big media news channels and publications funded and run by large corporations. "Independent media" essentially refers to everyone else: smaller publications, bloggers, and independent social media journalists.
The New York Times is the nation's largest daily newspaper, the "paper of record," and it is the corporate media publication trusted by many. The Times doesn't actually have a single reporter in Standing Rock.
When one young woman, Sophia Wilansky, had her arm blown off by a police grenade, all the independent media and all the eye witnesses there in North Dakota confirmed that this (more…)