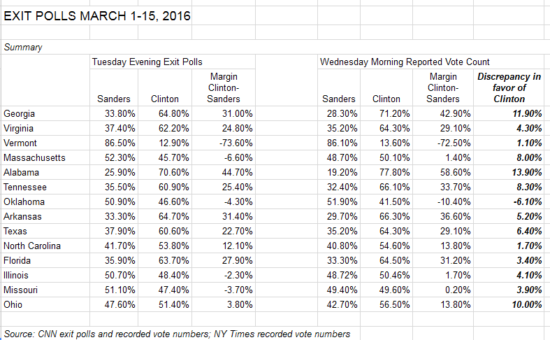 Evidence of election fraud always starts with exit polls.
Exit polls are the most important polls the media commissions. Throughout this fifty-state 2016 Democratic primary between Bernie Sanders and Hillary Clinton, the exit polls have shown again and again that the way people have voted, on the one hand, and the way the computerized counting machines have recorded votes, on the other hand, have differed significantly.
If you're unfamiliar with exit polls, they are rigorous scientific instruments used throughout the world as a primary deterrent and safeguard against election fraud. While a few media pundits have written that exit polls only provide informal data for election-day media stories, that is far from their only purpose.
In Serbia, Ukraine, and Georgia, for instance, exit polls have been used to overturn elections. In Ukraine, when the recorded vote differed from the exit polls by more than 2%, people immediately knew something was amiss, there were protests in the streets, and the entire election was thrown out. The US State Department itself dubbed that Ukraine election fraudulent based largely on the variance from the exit polls. The State Department considers 2% to be the standard margin of error allowed for an election to be considered fair and authentic.
But for elections here in this country — even one involving a former head of the State Department itself — exit polls have been ignored by elections officials and the corporate media if they differ from the reported results. In state after state, (more…)