San Jose Mercury-News Feature Interview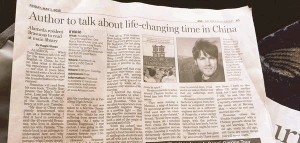 Maggie Sharpe, a journalist for the Bay Area News Group, interviewed me for a feature piece in the San Jose Mercury-News. After asking me a dozen rather harrowing and open-ended questions, she told me to be patient.
A week later, I discovered that she put together a marvelous piece. I don't know quite what to say. I have to admit it's the article I imagined someone would write about the book someday.
Read it here: Author to talk about life-changing time in China
The piece appeared shortly before my event at the Alameda library, and I believe it brought out quite a few extra readers, travelers, and curious armchair adventurers.
Ms. Sharpe begins the piece:
When Tony Brasunas left U.S. soil for the first time to teach English in China, he had no idea what a life-altering experience it would be — nor that 15 years later, he would write a book about his teaching, traveling and the transformation he experienced.
She describes the time I fell miserably ill, exploring the niceties of that near-death experience, and digs deeper into what illness meant for my time in China.
Brasunas said that even negative experiences such as getting sick, getting ripped off at the markets and even being ignored or ridiculed by some of his students only increased his learning.

"I followed the thread of my instincts to what I wanted and to who I am," said Brasunas. "This led me often to experience even ostensibly negative things in a positive light — that the negative moments and the positive moments were both a part of the magic of learning and of life."
My gratitude to the newspapers that ran this piece (the Contra Costa Times and Alameda Journal also ran the feature), and, above all, to Maggie Sharpe for her excellent questions and even better writing.