Double Happiness Reading #2
Thank you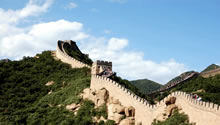 everyone who joined me tonight for the second reading, which was from Chapter 13, "A Child's Drawing of the End of the Earth."
After the reading and a blessing on the incoming Chinese Year of the Horse, we discussed exactly what salary I received as a teacher, the alternating-chapters structure of the book, and why precisely I felt comfortable mingling with on-duty soldiers of the PLA.
For those of you who didn't participate because of time conflicts, technical difficulties, being behind in the book, or simple forgetfulness, here's a recording for your enjoyment (24 minutes):

If you don't see the above audio player, you can hear the file here.
Future Readings
Our next reading will be on Chinese New Year, January 30, a week from Thursday. And then we'll move through the book like a backpacker on a beautiful mountain trail, at this pace:
Date
Section
Questions
Thu. Jan 30
6:30p
(Chinese New Year!)
Ch. 18
pp 129-132
What is the most difficult thing you've ever tried to teach someone?

What's the most difficult thing you've ever tried to learn?

Wed. Feb 12
6:30p
(With a live interview!)
Ch. 26
pp 194-196
Have you seen any typos in the book?

Why do you think the book is entitled Double Happiness?

Thu. Feb 27
6:30p
(Live from China!)
Ch. 32
pp 263-266
What was (or is) the most important crossroads of your early twenties?
Wed. Mar 12
6:30p
(Finish together!)
Ch. 37
pp 323-325
[Open Discussion]
The Year of the Horse is nigh!
Trust yourself, have fun, take chances,
Tony
Share:
Posted in
Uncategorized
by Tony Brasunas on January 22, 2014