California Bookstore Day
California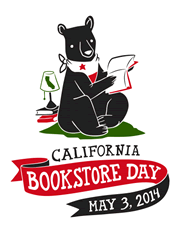 Bookstore Day is this Saturday, and I'll be celebrating the day by reading at two literary institutions in Southern California. On May 3 itself, I'll be participating in the celebration at the wonderful Granada Books in Santa Barbara. I hope you'll join me this weekend! More on the holiday:
California Bookstore Day is a statewide party on May 3, 2014 as big and varied as the state itself. It's more than 90 stores in more than 80 zip codes putting their bells on and throwing out the welcome mat. Think Record Store Day, but for book nerds.

Each store will have its own party. The headline attraction are the just-for-us books you cannot get on any other day at any other place (click here to find the celebration closest to you). But there will also be readings, and prizes, and things to eat and drink. In some cases there will be famous authors and artists, and people writing live poetry… more from the California Bookstore Day website
I'm delighted to be contributing to this celebration of the magical places of ideas, philosophy, recipes, and history, and inspiration we know as bookstores.
Below are my upcoming appearances. I hope to see you.
California
Saturday, May 3 (SANTA BARBARA)
6pm : Reading & Signing
Granada Books
1224 State Street, Santa Barbara
Sunday, May 4 (LOS ANGELES)
3pm : Reading & Signing
Beyond Baroque
681 North Venice Blvd., Venice
Monday, May 5 (LOS ANGELES)
7pm : Reading & Signing
Home of MJ Park
Silverlake
Pacific Northwest

I'm delighted to announce my tour dates for the Pacific Northwest, the second week of June:
Thursday, June 12 (PORTLAND)
7pm : Reading & Signing
Broadway Books
1714 NE Broadway Street, Portland
Friday, June 13 (SEATTLE)
6:30pm : Reading & Signing
Third Place Books
17171 Bothell Way NE, Lake Forest Park
As always, best of luck on your journey friends!
Tony