Reading at the Alameda Free Library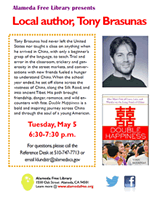 Delighted to announce I'll be reading from Double Happiness at the Alameda Free Library on Tuesday evening, May 5.
If we translate "Cinco de Mayo!" into Chinese we have "Wu yue wu hao!" There will be celebrations, festivities, and a surprise giveaway.
The library is doing an "Armchair Travel" reading series, and I've been asked to read as the closing event of the series. So although I thought my final two events were the two Bay Area events in January, here's another chance to get a taste of Double Happiness and to meet me at an event. I'd love to see you there!
Tuesday, May 5
6:30pm : Reading & Signing
Alameda Free Library
1550 Oak Street
Alameda, CA
Full Event Info >