Free Today and Tomorrow!: Celebrate Double Happiness Day with an e-book or paperback
Double Happiness Day is here!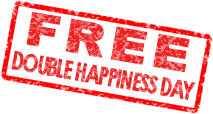 It's 8/8. If today is a busy day in the office, the offer will stretch into tomorrow, 8/9, as well.
As a gift to celebrate completion of this project:
The E-book is free – www.DoubleHappy.be/kindle
(reg. $4.99)
The paperback only $8.88 – www.DoubleHappy.be/paperback
(reg. $15.95)
Enjoy the journey!
Share:
Posted in
Uncategorized
by Tony Brasunas on August 8, 2014