Double Happiness Visits the Northwest!
The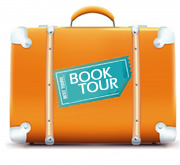 book tour now takes me to Oregon and Washington. This is the final leg of the tour, and as I get ready to set off I'm again filled with gratitude to my generous kickstarter backers. If you contributed a year ago and pushed me past my goal, you made this book tour possible. Thank you!
I'll be in Portland, Seattle, Olympia, and a town called Florence on the Oregon coast. Please come out and see me. The events offer connection to the essence and insights of Double Happiness. They're also a lot of fun. I'll read from the book and answer your many questions.
You can also show your support for local bookstores by visiting these indie stores where I'll be reading!
Most of all, I long to see you in person. It means so much to connect with you and share this life-changing story.
I arrive into Portland next Wednesday, June 11. Here's the full list of Double Happiness events:
Thursday, June 12 (PORTLAND)
7pm : Reading & Signing
Broadway Books
1714 NE Broadway, Portland

Friday, June 13 (SEATTLE)
6:30pm : Reading & Signing
Third Place Books
17171 Bothell Way NE, Lake Forest Park

Saturday, June 14 (OLYMPIA)
3pm : Reading & Signing
Orca Books
509 E 4th Ave., Olympia

Sunday, June 15 (OREGON COAST)
1pm : Library Reading
Siuslaw Public Library, Main Branch
1460 Ninth Street, Florence
If you don't live in the Northwest, please forward this to people who do, particularly those who might enjoy a story about China, about teaching English, about rugged backpacking, or about a spiritual coming-of-age tale in a faraway land.
And if you've finished the book and enjoyed it, great! Go review it > Your review will help others find Double Happiness.
Best wishes and my thanks,
Tony
Share:
Posted in
Uncategorized
by Tony Brasunas on June 5, 2014