Double Happiness for Free on 8/8!
To celebrate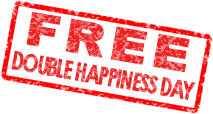 the completion and publication of Double Happiness, I am delighted to offer on Double Happiness Day the e-book, normally $4.99, for free to anyone.
A year ago we reached — and exceeded — the Kickstarter goal of $8888, which I described as the Double Happiness number. On 8/8, Double Happiness Day, I wish to share the celebration as widely as possible.
I also wish to express my gratitude to all the people around the planet who helped me explore China and helped me complete this book. None of it could have happened alone. It feels wonderful and fitting to offer the story for free as a way to celebrate.
Tell everyone!
Double Happiness free on

8/8


Friday, August 8, 2014

My deepest goal — the reason I wrote Double Happiness — is to share a story of growth, transformation, and hope with as many people as possible.

Tell anyone who would be interested in Double Happiness — an award-winning story of traveling in Asia, a fascinating portrait of life in China, and a tale of coming of age in today's era of globalization.

Also, for everyone who wants to hold this gorgeous book in their hands and read the story on paper, the paperback will be just $8.88!

Come back to this space on 8/8 for instructions on the giveaway.

Share:

Posted in

Uncategorized

by Tony Brasunas on August 3, 2014