After a long journey during which I considered many options, and not just the main two options we're discussing here, I realized something: It was going to be hard. It was going to be a lot of work. And I was at a fork in the road.
(This is Part II of my Indie Publishing Trilogy of posts. See Part I  for the pros and cons of independent and traditional publishing. This post covers how I made my choice. Part III lists Seven Things You Need to Do if You Publish Your Book Independently.)
I knew it would be a lot of work either way I went — whether I sold the manuscript to a publishing house, or published my book independently. I was intimidated, but I was optimistic and determined as well. I decided, first, that while writing Double Happiness — during the years of rewrites and revisions — I would also approach literary agents in the hope of landing a publishing deal.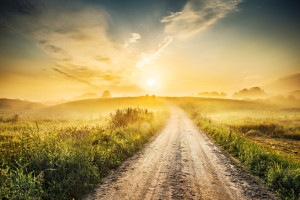 I was right. It was a lot of work. I ended up spending almost as much time writing query letters, synopses, proposals, and chapter summaries as I did revising the book. It turns out, you have to know a lot about the industry just to write a decent cover letter.
For all of my work, I did receive significant interest, and many agencies requested partials of my manuscript. Some agencies showed enthusiasm and requested the whole manuscript. Still, all eventually led to rejections.
After nearly a decade of work, as I was completing the final, final revision of Double Happiness, I leapt into exploring the independent route.
What I found was exhilarating and daunting. I still had so much to learn. But I was thrilled and, armed with a manuscript I knew was great, I felt ready to do it. I was ready to publish my book myself.
A Strange Coincidence
Coincidentally, just as I decided to go indie, I was approached by several literary agents who showed real interest. Two agencies went all the way and offered to sign me. It was mystifying. Did they want me now only because I wasn't seeking them? Had my manuscript improved so much? Were they paying attention to me because I had started blogging?
I had my theories, but I really wasn't sure. (more…)